TEMAS Gala Photos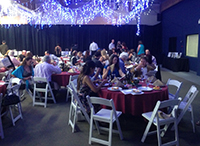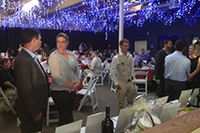 Theme: Wine Country Gala - EVENT SOLD OUT
Contact TEMAS at (858) 487-6406 to see if there are any cancelations.
The Educational Martial Arts System (TEMAS) invites you to our 5th Annual Fundraiser, An event for adults. (This Event is a theme for our fundraiser not a wine tasting, a full dinner, host bar, silent auction and live auction.)
Saturday, March 24th, 2018
Held at: Manna's Martial Arts (2014 Gala at Manna's pictured to the right)
12285B World Trade Drive, San Diego, CA 92128
TEMAS is a Non-Profit Corporation for the Further Enhancement of the Arts
Since 1992 - 501(c)(3) Fed I.D. # 33-0497420. CA DOJ Raffle Registration Number RF0005468
CA ABC Special Daily License & CA One Day Beer and Wine License 31 & 34 Number: 9430620
We look forward to each of you attending our 5th Annual Fundraiser. TEMAS is proud to continue supporting our youth through positive reinforcement of the values within the martial arts for the past 27 years.
2017's Gala Fundraiser was an amazing success. It is through the continued generosity of our families and local businesses that we are able to raise funds to provide continued growth to our Martial Arts community in the form of:
scholarships for martial arts tuition
educational development seminars and material
extended community outreach programs
provide opportunity for junior and varsity letters in Martial Arts thru
The Varsity Martial Arts League (VMAL) www.vmal.org
The 2018 TEMAS Wine Country Gala will be from 6 pm-11 pm and will include:

6:00 PM Doors open to the Gala, Silent Auction tables open,
6:10 PM Host Beverage Bar open and Appetizers Served

7:30 PM Buffet Dinner and Dessert Bar, Espresso Cart available throughout
8:30 PM Welcome & Live Auction

9:45 PM Final tables Close
We are pleased to have the evening with catered appetizers, host bar, dinner and desserts prepared. This special 5th Annual TEMAS Gala dinner and dessert bar is being catered by The Barrel Room of RB.
We are thankful to Cafe Moto for donating their espresso cart for the evening.
Many members, instructors, and parents have spent countless hours working toward the success of this event. We are thankful for the support, donations and awareness provided by our local business and community donations.
Reserve your seat/s to RSVP Here on line or request your tickets at the Manna's front desk.
Place an advertisement/ or notice in the Gala Event Program.
All proceeds are a tax-deductible Donation to TEMAS